Disclaimer: This post contains affiliate links, which means we may earn some money if you click on one. Read the full disclaimer.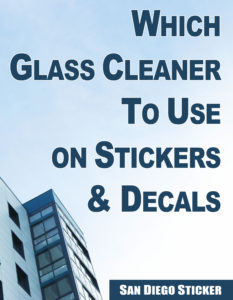 We get asked from time to time what is the best window cleaner to use with our stickers and decals. Well here it is. We have used Sprayway Glass Cleaner for a few years with great results. Click here to view the product on Amazon.
We recommend Sprayway Glass cleaner for all your glass cleaning needs, but especially with decals and stickers.
The main reason we use this particular product is that it is Ammonia free. Ammonia is corrosive and can shorten the sticker lifespan. In store-front window applications, we recommend using ammonia free window cleaners to keep your window graphics looking great for years.
Sprayway Glass Cleaner Features & Why We Love It:
Ammonia Free – Ammonia has alkaline properties and is corrosive. Glass cleaners with ammonia will degrade the stickers quicker than using Ammonia free cleaners.
It foams when sprayed – Less dripping, less mess, and less waste.
Made in the USA – because America!
Great for all windows, mirrors, windshields, and more!
4 Pack:


Here is another option in a 12 pack: