We want to help you share your brand, band, or group the best way possible. Vinyl plotter-cut decals are a great product to achieve low cost brand exposure. Clients place your design on their vehicles, binders, surfboards, or anything else you can imagine, and advertise your company to all their friends, family, and acquaintances.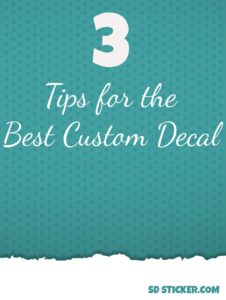 Here are a few tips on how to get the most out of your plotter cut vinyl decal.
1. Size is Crucial: Deciding on the right size is imperative to getting great results from your decal. To determine the perfect size, consider the following factors:
Desired Viewing Distance – Most decals are placed on vehicle rear windows. In this case, the viewers eyes are at least a car lengths distance which is approximately 20 feet or more. We have found that to fit this space and also be viewable from 20-40 feet the decal should be around 5-8 inches. 5 inches being on the small side and 8 inches being on the large side.
How Detailed is the Artwork? – If the artwork is really detailed, then designing the decal slightly larger will ensure a clean and elegant custom decal. If your logo design is too detailed you may have to increase the size. If the design is bold and has thick vinyl lines, the design can be smaller.
2. Website: Consider adding your website address. Adding your website URL to your decal design can be a great opportunity to grab curious observers and converting them into valued customers. It is most-likely that those curious observers will checkout your website before giving you a call or acting upon a call to action. Websites create a no pressure environment to lure potential clients.
3. Color and Contrast: As mentioned before, if you anticipate your decal will be placed on the back of vehicles. Most car and SUV windows are tinted dark black making white the obvious choice. Consider bright and light colors for optimal contrast. We offer many color vinyl options, two color vinyl decals, and full color printed stickers.