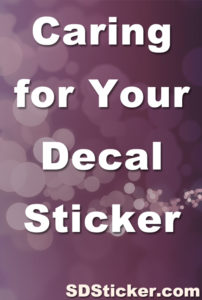 Before installation, keep your decal or sticker in a cool and dry place.
Caring for your decal starts with proper installation. Be sure to properly apply your window decal. Click here for step by step instructions.
Once your decal sticker is applied, please take note of these following tips:
Before installation make sure to clean the surface thoroughly. Use soap and water. If you would like to use a glass cleaner, be sure to use an ammonia free cleaner.
Wet Installation:

Some vinyl manufacturers have warned against the use of ammonia when applying a vinyl decal sticker. If you prefer applying the sticker decal wet, we suggest that you use a detergent soap and water. For most applications dry installation is the preferred method of installation.

Outdoor Elements & Washing:

Your SD Sticker is outdoor-rated for around 5 years. It can stand up against the outside elements and take car washes, rain, sun, and snow. Feel free to wash your vehicle with soap and water. There is no need to avoid the area of the decal. Be careful not to peel up the edges of the decal when you are scrubbing or wiping with a cloth.
Car Wax: We have noticed that some waxes have stained the decals. Especially, the white vinyl which is also our most popular. Use caution when waxing your car. Avoid applying wax to the decal. It might stain. You might consider removing the sticker decal and purchasing a replacement. Decals are fairly inexpensive and a fresh decal always looks fantastic on a clean vehicle!

Window Cleaning Products:

Like the tip above, if you have the ability, try to use a window cleaner that is ammonia free. Although not required, some vinyl manufacturers have made this suggestion and using ammonia cleaner may reduce the life of your decal.